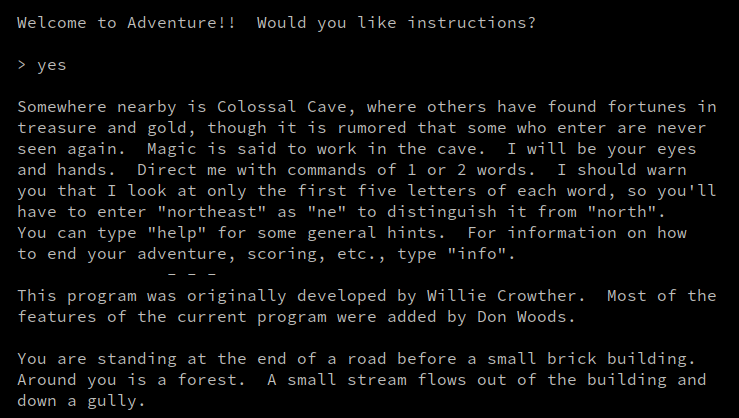 Colossal Cave Adventure
Benché oggi quasi totalmente dimenticato, questo è il primo text adventure game dell'universo conosciuto, e ha dato origine al più famoso Zork e a tanti altri giochi.Da questo gioco derivano dei modi dire che sono diventati famosi nel mondo della programmazione, come "You are in a maze of twisty little passages, all alike" oppure la parola magica Xyzzy o il grido PLUGH!.
La versione originale di CCA (in breve: Advent) è stata scritta da Will Crowther, che oltre a lavorare come programmatore alla Bolt, Beranek & Newman aveva altri interessi (come molti programmatori). Il più importante era la speleologia: Will amava le caverne e le esplorava insieme alla moglie. L'altro interesse di Will erano i giochi da tavolo come Dungeons and Dragons.
Non ci voleva molto perché i due interessi collassassero in uno: la creazione di un videogioco in cui il giocatore doveva esplorare una caverna labirintica per trovare tesori.
Una caratteristica fondamentale del gioco era che il programma interagiva col giocatore in inglese: era capace di "capire" frasi composte da un verbo e da un complemento e di rispondere. In totale, riconosceva solo 200 parole. Va detto che era uno dei primi software al mondo ad esserne capace.
Il tutto avveniva nel 1975 e con un computer che avete probabilmente giù incontrato nella mostra: il PDP-10. Non era un personal computer, tutt'altro. Il suo sistema operativo era di quelli a Time sharing: ovvero costava talmente tanto che molti utenti avevano accesso allo stesso computer, mettevano in coda i proprio programmi e aspettavano il loro turno per l'esecuzione.
La versione originale di CCA era scritta in 700 righe FORTRAN - un linguaggio nato per i calcoli, non certo per i videogiochi. Era composta da una sezione dati, con le parole e le descrizioni delle stanze, e una delle istruzioni.


	DO 1001 I=1,300
	IF(I.LE.100)PTEXT(I)=0
	IF(I.LE.RTXSIZ)RTEXT(I)=0
	IF(I.LE.CLSMAX)CTEXT(I)=0
	IF(I.LE.MAGSIZ)MTEXT(I)=0
	IF(I.GT.LOCSIZ)GOTO 1001
	STEXT(I)=0
	LTEXT(I)=0
	COND(I)=0
	KEY(I)=0
1001	CONTINUE

	CALL IFILE(1,'TEXT')
	SETUP=1
	LINUSE=1
	TRVS=1
	CLSSES=1

C  START NEW DATA SECTION.  SECT IS THE SECTION NUMBER.

1002	READ(1,1003)SECT
1003	FORMAT(G)
	OLDLOC=-1
	GOTO(1100,1004,1004,1030,1040,1004,1004,1050,1060,1070,1004,
	1    1080,1004) (SECT+1)
C	      (0)  (1)  (2)  (3)  (4)  (5)  (6)  (7)  (8)  (9)  (10)
C	     (11) (12)
	CALL BUG(9)


Un apporto importante fu quello di Don Woods, uno laureato a Stanford capitato per caso su CCA, che aggiunse funzionalità e profondità al gioco, nonché un retrogusto tolkeniano. Ma soprattutto, rese disponibili i sorgenti del suo programma.
Per valutare l'importanza di questo gioco nel mondo della programmazione si può leggere l'
articolo
che gli dedica Donald
Knuth
, in cui ricorda come il gioco gli fosse stato presentato nel 1977 nientepopodimeno che da John
McCarthy
e come, 21 anni dopo, gli fosse venuta voglia di riscriverlo in CWEB, il suo personale ambiente/linguaggio di programmazione.
CCA fu riprodotto per una quantità di sistemi operativo e computer, tra cui l'MS-DOS.
Tra quelli che riconobbero l'importanza di CCA va sicuramente citato
Eric Steven Raymond
, che è conosciuto per altre cose. Nel 2017 Raymond scrive un
porting
di CCA in C, che può essere installato anche oggi su un sistema Linux, Windows o Mac con pochi passaggi.

/*
 * Actions for the duneon-running code.
 *
 * Copyright (c) 1977, 2005 by Will Crowther and Don Woods
 * Copyright (c) 2017 by Eric S. Raymond
 * SPDX-License-Identifier: BSD-2-clause
 */

#include 
#include 
#include 
#include "advent.h"
#include "dungeon.h"
#include 

static phase_codes_t fill(verb_t, obj_t);

static phase_codes_t attack(command_t command)
/*  Attack.  Assume target if unambiguous.  "Throw" also links here.
 *  Attackable objects fall into two categories: enemies (snake,
 *  dwarf, etc.)  and others (bird, clam, machine).  Ambiguous if 2
 *  enemies, or no enemies but 2 others. */
{
    verb_t verb = command.verb;
    obj_t obj = command.obj;

    if (obj == INTRANSITIVE) {
        int changes = 0;
        if (atdwrf(game.loc) > 0) {
            obj = DWARF;
            ++changes;
        }
        if (HERE(SNAKE)) {
            obj = SNAKE;
            ++changes;
        }
        if (AT(DRAGON) && game.prop[DRAGON] == DRAGON_BARS) {
            obj = DRAGON;
            ++changes;
        }
        if (AT(TROLL)) {
            obj = TROLL;
            ++changes;
        }
        if (AT(OGRE)) {
            obj = OGRE;
            ++changes;
        }
        if (HERE(BEAR) && game.prop[BEAR] == UNTAMED_BEAR) {
            obj = BEAR;
            ++changes;
        }
        /* check for low-priority targets */
        if (obj == INTRANSITIVE) {
            /* Can't attack bird or machine by throwing axe. */
            if (HERE(BIRD) && verb != THROW) {
                obj = BIRD;
                ++changes;
            }
            if (HERE(VEND) && verb != THROW) {
                obj = VEND;
                ++changes;
            }
            /* Clam and oyster both treated as clam for intransitive case;
             * no harm done. */
            if (HERE(CLAM) || HERE(OYSTER)) {
                obj = CLAM;
                ++changes;
            }
        }
        if (changes >= 2)
            return GO_UNKNOWN;
    }

    if (obj == BIRD) {
        if (game.closed) {
            rspeak(UNHAPPY_BIRD);
        } else {
            DESTROY(BIRD);
            rspeak(BIRD_DEAD);
        }
        return GO_CLEAROBJ;
    }
    if (obj == VEND) {
        state_change(VEND,
                     game.prop[VEND] == VEND_BLOCKS ? VEND_UNBLOCKS : VEND_BLOCKS);

        return GO_CLEAROBJ;
    }

    if (obj == BEAR) {
        switch (game.prop[BEAR]) {
        case UNTAMED_BEAR:
            rspeak(BEAR_HANDS);
            break;
        case SITTING_BEAR:
            rspeak(BEAR_CONFUSED);
            break;
        case CONTENTED_BEAR:
            rspeak(BEAR_CONFUSED);
            break;
        case BEAR_DEAD:
            rspeak(ALREADY_DEAD);
            break;
        }
        return GO_CLEAROBJ;
    }
    if (obj == DRAGON && game.prop[DRAGON] == DRAGON_BARS) {
        /*  Fun stuff for dragon.  If he insists on attacking it, win!
         *  Set game.prop to dead, move dragon to central loc (still
         *  fixed), move rug there (not fixed), and move him there,
         *  too.  Then do a null motion to get new description. */
        rspeak(BARE_HANDS_QUERY);
        if (!silent_yes()) {
            speak(arbitrary_messages[NASTY_DRAGON]);
            return GO_MOVE;
        }
        state_change(DRAGON, DRAGON_DEAD);
        game.prop[RUG] = RUG_FLOOR;
        /* Hardcoding LOC_SECRET5 as the dragon's death location is ugly.
         * The way it was computed before was worse; it depended on the
         * two dragon locations being LOC_SECRET4 and LOC_SECRET6 and
         * LOC_SECRET5 being right between them.
         */
        move(DRAGON + NOBJECTS, IS_FIXED);
        move(RUG + NOBJECTS, IS_FREE);
        move(DRAGON, LOC_SECRET5);
        move(RUG, LOC_SECRET5);
        drop(BLOOD, LOC_SECRET5);
        for (obj_t i = 1; i <= NOBJECTS; i++) {
            if (game.place[i] == objects[DRAGON].plac ||
                game.place[i] == objects[DRAGON].fixd)
                move(i, LOC_SECRET5);
        }
        game.loc = LOC_SECRET5;
        return GO_MOVE;
    }

    if (obj == OGRE) {
        rspeak(OGRE_DODGE);
        if (atdwrf(game.loc) == 0)
            return GO_CLEAROBJ;

        rspeak(KNIFE_THROWN);
        DESTROY(OGRE);
        int dwarves = 0;
        for (int i = 1; i < PIRATE; i++) {
            if (game.dloc[i] == game.loc) {
                ++dwarves;
                game.dloc[i] = LOC_LONGWEST;
                game.dseen[i] = false;
            }
        }
        rspeak((dwarves > 1) ?
               OGRE_PANIC1 :
               OGRE_PANIC2);
        return GO_CLEAROBJ;
    }

    switch (obj) {
    case INTRANSITIVE:
        rspeak(NO_TARGET);
        break;
    case CLAM:
    case OYSTER:
        rspeak(SHELL_IMPERVIOUS);
        break;
    case SNAKE:
        rspeak(SNAKE_WARNING);
        break;
    case DWARF:
        if (game.closed) {
            return GO_DWARFWAKE;
        }
        rspeak(BARE_HANDS_QUERY);
        break;
    case DRAGON:
        rspeak(ALREADY_DEAD);
        break;
    case TROLL:
        rspeak(ROCKY_TROLL);
        break;
    default:
        speak(actions[verb].message);
    }
    return GO_CLEAROBJ;
}

Prossimo pannello:

⇨

Zork



© Codexpo.org - Content released under Creative Commons 4.0 BY/SA/NC

Versione: 20/01/2022 - 22:53:02